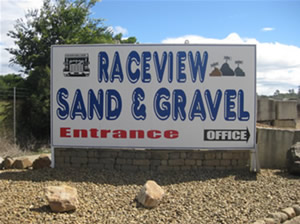 Raceview Location    Boonah Location
We hope to see you at one of our two locations, so we can help you choose one of our landscaping supply options!
Raceview Sand & Gravel has a massive range of products to choose from. Check out our product page  to view our full range, or visit either location (listed below), to have a look-see at our entire range on display. Simply, we have a quality range, expert advice, and competitive rates, so drop in and say gidday when you have the time.
Buying in Bulk?
You can buy in bulk from either location, or pick up as little as a 10 litre bucket of product. We'll also load your trailer, ute, or truck for you. And better yet, there is no surcharge for quantities loaded under 1 cubic metre. Buying bulk landscaping supplies has never been easier!
We deliver landscaping supplies to all areas – Charges Apply!
Organise your deliveries by giving us a call, or visiting either location. We provide deliveries of small truck loads, through to Truck & Dog Loads. Our Truck & Dog Loads are offered at a discounted rate.
* Go to home page for our Trading Hours *
Where are we?
33B Briggs Rd Raceview
Phone: 3281 1640
IPSWICH   Mon – Fri:   6:30am – 5:00pm    Sat: 7:00am – 2:00pm
WINTER    Mon – Fri:   6:30am – 4:30pm    Sat: 7:00am – 2:00pm
61 Elliot Rd Boonah
Phone: 5463 2988
BOONAH   Mon – Fri:   6:30am – 5:00pm    Sat: 7:00am – 2:00pm
WINTER     Mon – Fri:  7:00am – 4:30pm    Sat: 7:00am – 2:00pm
We'd love to help you with your next landscaping project. Contact us for more information. Landscape suppliers in Ipswich and Boonah with over 30 years experience!
DPI Fire Ant information